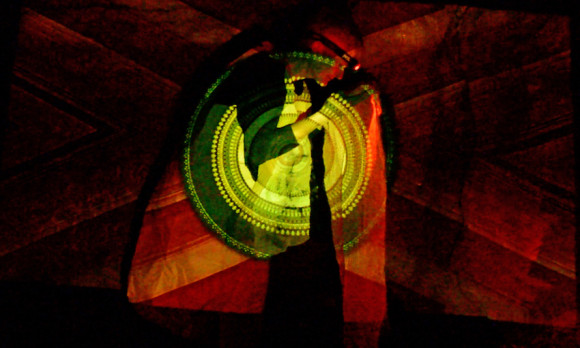 New work at tactileBOSCH's programme of exhibitions, events, performances, screenings and
participatory workshops through November. The Old Vicarage, 37-39 Cathedral Road, Cardiff CF11 9XF
For times and access click here.
Dans la nuit il y a naturellement les sept merveilles
du monde et la grandeur et le tragique et le charme
Robert Desnos
Video and projection based on the underground and dark spaces of the Black Mountains, interconnected
with Cardiff counter-cultural night spaces. Video projected onto installations of cats' eyes gleaned from rural roads linking the Black Mountains with urban centres. Live performance in the caves: video Penny Hallas: performance, Tessa Waite. Installation at tactileBOSCH, Penny Hallas and Tessa Waite with soundscape by Lyndon Davies.
Opening night 1 Nov: Tessa Waite, Lyndon Davies, Scott Thurston, Anthony Mellors, John Goodby,
Wanda O'Connor, Steven Hitchins, Tilla Brading, Rhys Trimble, Nia Davies, Penny Hallas.
For a video of the event click here. Sound compilation Steven Hitchins.















16 Nov 2019: Penny Hallas, Lyndon Davies and Allen Fisher.
Thanks also to Graham Hartill and Ursula Frank