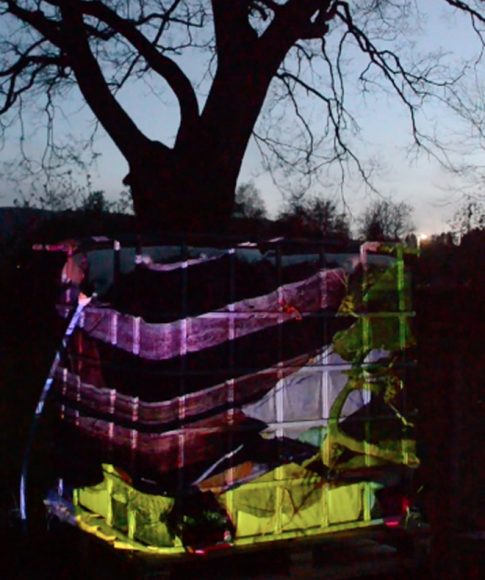 tactileBOSCH, Capitol Centre, Queen Street, Cardiff, CF10 2HQ
10 – 30 Sept Wednesday to Saturday afternoons, 1-4pm.
In the midst of environmental, political and public health emergencies, Penny Hallas and Allen Fisher look to the garden, the allotment and the wider landscape for ways of thinking about their own place and the place of others in a world leaning towards disaster. Discomfort and anxiety are a part of it, but so are glimpses of paradise. Through drawing, installation, projection and performance they bring messages from the Garden to the commercial urban centre of Cardiff.
10 Sept 2-5pm – see the show and chat with Penny. 6-8pm – Opening event
25 Sept 2-5pm see the show and chat with Penny. 7-8pm -performance with poetry, projection, music: Allen Fisher, Lyndon Davies and Penny Hallas. Booking required for performance: DM @tactileBOSCH.
Thanks National Lottery and Arts Council of Wales and LACAS
Dr. Frances Woodley_response to Materials from the Garden
Steven Hitchins_response to Materials from the Garden
BLOG
Llangattock Allotments solar powered water system_Pinkerton
Deunyddiau o'r Ardd
Yng nghanol argyfyngau amgylcheddol, gwleidyddol ac iechyd cyhoeddus, mae Penny Hallas ac Allen Fisher yn edrych i'r ardd, y rhandir a'r dirwedd ehangach am ffyrdd o feddwl am eu lle personol a lleoliad pawb arall mewn byd sy'n pwyso tuag at drychineb. Mae anghysur a phryder yn cyfrannu iddo, ond hefyd yw'r cipolwg ar baradwys. Trwy luniadu, gorseddau, taflunio a pherfformiad maent yn dod â negeseuon o'r Ardd i ganolfan drefol fasnachol Caerdydd.
10 – 30 Medi  prynhawniau dydd Mercher i ddydd Sadwrn 1-4pm,
10 Medi 2-5pm – gweler y sioe a sgwrsio gyda Penny. 6-8pm – Digwyddiad agoriadol
25 Medi 2-5pm – gweler y sioe a sgwrsio gyda Penny. 7-8pm – perfformiad gyda barddoniaeth, tafluniad, cerddoriaeth. Allen Fisher, Lyndon Davies a Penny Hallas. Archebu ar gyfer perfformiad: DM @tactileBOSCH
Diolch National Lottery a Cyngor Celfyddydau Cymru a LACAS