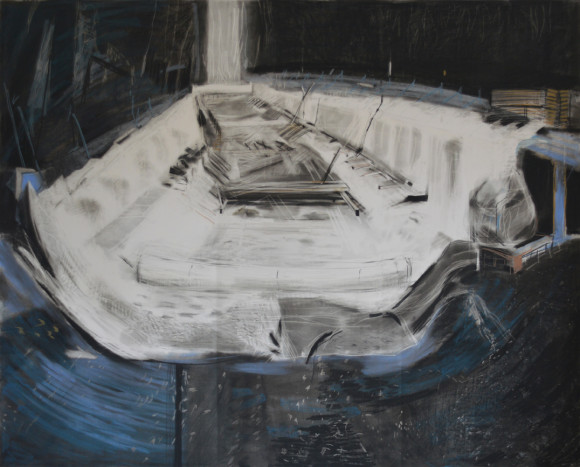 Exhibition and related events exploring major engineering works on the Monmouthsire & Brecon Canal.
Andrew Lamont Gallery
Launch: 4 Oct 2018, 6-8pm.
During the winter of 2016 /17 the Llangattock stretch of the canal was closed and drained for repair and re-lining, interrupting the flow of water and navigation from the Beacons to the Sea. This exhibition shows these engineering works in progress, in the context of industrial heritage and the interchange of human and natural forces. Painting, drawing, video and found objects from the canal, its feeder streams and the interconnecting network of paths, tramways and roads.
Canal walk: 29 Oct 2-4pm with Kevin Phillips of Canal and River Trust
Poetry and Performance: 4 Nov 5.30 – 6.30 with GhostJam and Canalchemy
To book your place on these free events please click here.
Exhibition runs from 5 Oct – 11 Nov
Andrew Lamont Gallery
Theatr Brycheiniog
Canal Wharf
Brecon, Powys
LD3 7EW